Industrial, Loft Style Home and Wall Decor
Click the board below to view our Pinterest collection of over 100 Industrial Style interior design ideas. Keep reading for our favorite tips and examples of decorating Industrial Style.
Industrial Style Decorating Tip

#1 - Remember "FACTORY"
Industrial style interior designs are characterized by a strict focus on INDUSTRY. To narrow that down for inspiration I choose the FACTORY relation.
"I'll take 'Things you see in a factory' for $800 Alex."
Here is a list of factory-related items you should decorate an Industrial style interior design with...
Industrial Style Decorating Tip 

#2 - Decorate with OLD MACHINES or MACHINE PARTS
If you want interesting and authentic industry-related home accessories, you'll have to keep your eyes on the inventory at places like vintage shops, garage/estate sales and online auctions. Depending on where you are in the world, you may have some hidden gems nearby so try that first. It doesn't have to be a validated antique or even era-appropriate to fit in an industrial style interior. In fact, here are some items I see frequently in Re-sale situations that are usually priced low and go well in an industry driven design...
(The above images were found in Ebay "Buy-it-Now" listings, with word search "vintage industrial parts", and filtered by items under $50.) 
Industrial Style Decorating Tip

#3 - Use BIG METAL & IRON PIECES
Metal is to Industrial style what baskets are to Farmhouse style, so it's a good call to accent generously with metal and iron.
Industrial Style Decorating Tip
#4 - Keep TEXTILES like ACCENT PILLOWS & WINDOW TREATMENTS SIMPLE
 The fibers you incorporate into your Industrial interior should be understated. Bold or busy patterns and textures could misinterpret your direction. When accessorizing with textiles, consider 1. what you need for practicality and 2. what you need for your design. Maybe extra sofa pillows, an ottoman, and a chair throw are necessary for your space and lifestyle, and your design needs some color pops. There's your guide for adding the right fabric accessories.
Industrial Style Decorating Tip
#5 - For a Large Focal Piece, Choose a VINTAGE or RUSTIC WALL CLOCK 
Industrial Style Decorating Tip
#6  - Incorporate HANGING LIGHT FIXTURES (like pendant lights and cage lights.)
Industrial style is in the details so make sure to pair your retro light fixtures with era-appropriate bulbs. You want soft warm light, not bright white or fluorescent. Eddison bulbs compliment industrial fixtures perfectly.
Industrial Style Decorating Tip
#7 - Try to Find VINTAGE FACTORY FIXTURES and SHOP DECORATIONS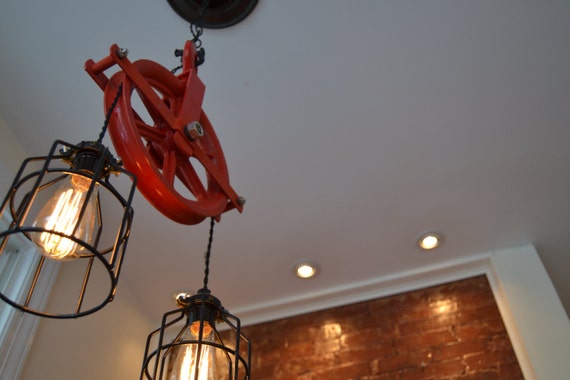 ---